Surprise Mom with breakfast in bed for Mother's Day
It goes without saying that there's no one more special on Earth than Mom. It also goes without saying that moms deserve a special Mother's Day. One way to help guarantee yours has the best possible Mother's Day this year is by making it all about her from the minute she wakes up. And what better way to accomplish that than by serving her breakfast in bed?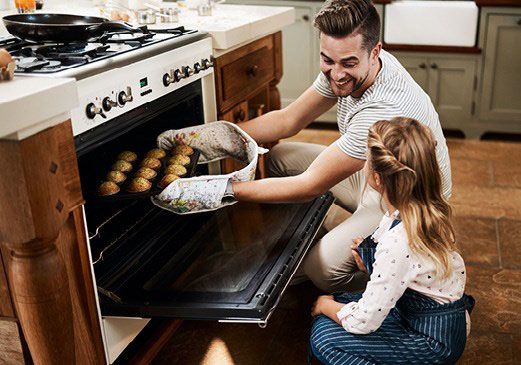 Make this a Mother's Day to remember by letting her sleep in while you surprise her with one or more of these simple breakfast treats made in your propane oven or stovetop!
No breakfast spread is complete without buttered blueberry muffins fresh out of the oven! This helpful blueberry muffin recipe provides a tiny but tasteful addition to that special breakfast for Mom. And the fact that they're bite-sized means everyone in the family can have more than one. Just be sure to save as many for Mom as she wants!
The shape and structure of pancakes can vary around the world, from unleavened in the United Kingdom to the thin crepes ordered at Parisian cafes. But let's face it, Mom deserves perfection on Mother's Day, and that's exactly what we're bringing to you with this delicious recipe. Give her all the syrup and butter she wants. This is Mom's special day!
From hard boiled to scrambled to sunny wide up, there are a number of ways to cook an egg, but nothing graces the breakfast plate quite like the classic omelet. Don't let the simplicity of this omelet recipe concern you. This tasty show-stopper will be the perfect start to the perfect day for Mom.
A staple of any hearty breakfast is the potato, and there are a number of simple ways to prepare them for Mom. The crunchy, salty goodness of these oven-roasted potatoes pairs perfectly with everything else on her plate. We'll save the ketchup debate for another day.
You didn't think we were going to recommend the perfect breakfast menu for Mom and not include bacon, did you? Don't worry, we wouldn't dare. Want to know the secret to making the best bacon? Put it in your propane-powered oven, not in the frying pan. Even more, bacon prepared in the oven is hands-free and easy to clean up, giving you even more time to spend with Mom.