Switching propane suppliers? Why you should consider Ferrellgas
It's no secret that Ferrellgas makes its name in more than just the propane business. For more than 80 years, we've taken pride in being in the business of excellent customer service, and our reputation in that department often precedes us. It's the reason why customers often decide it's time to switch from their current propane supplier to Ferrellgas.
For Rick, one of our recent new customers, the choice to change propane suppliers was made much easier when he heard of Ferrellgas and our commitment to going above and beyond for our customers. As Rick explains in his testimonial, it was Ferrellgas that had his back every step of the way and made the transition smoother than he could have ever imagined. Now with Ferrellgas on his side, Rick never has to worry about his propane service, allowing him to focus on what truly matters to him.  
Propane delivery and service options
In conjunction with our mission of providing excellent service, we strive to provide our customers with delivery plans and service options that meet their needs. We understand that propane suppliers should be as flexible as the customers they serve, and we've set ourselves up to do just that. With our Auto Fill, Auto Fill with Digital Tank Monitor, and Will Call programs, you'll never have to worry about running out of propane.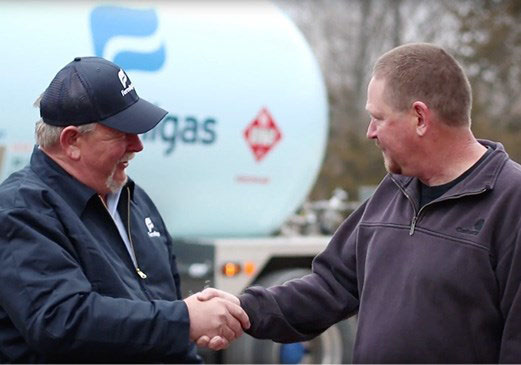 Contact Ferrellgas for all your propane needs
As Rick and several of our customers can attest to, Ferrellgas is there for you when you need us the most. Whether you need propane to heat your home or power your business, make Ferrellgas your first choice. Get in touch with your local office today, and discover the benefits of becoming a Ferrellgas customer. So what are you waiting for? Make the switch to one of the nation's leading propane suppliers!