Switching your fleet to propane autogas
A new school year offers a fresh start. Students, teachers, and parents alike have an opportunity to wipe the slate clean and move forward with bigger ideas and goals. The same can also be said of Jeff Schwepker, Director of Transportation at Fort Zumwalt School District in O'Fallon, Missouri. This year, Jeff and his district are utilizing propane autogas more than ever to fuel students' commutes to and from school, and they're already reaping the benefits. But what made Fort Zumwalt ditch the diesel and opt for an alternative fuel source? The answer, as it turns out, was a no-brainer.
The two biggest advantages of switching to propane autogas
Environmental benefits of propane autogas
The decision for the Fort Zumwalt School District to convert part of their fleet of school buses to propane autogas was a conscious one. As Jeff describes, there were two pivotal reasons the district chose to build the infrastructure needed to maintain what is now a fleet of 61 autogas-powered school buses.
"We were looking to be progressive in our thinking, and [wanted] our fuel consumption to be environmentally aware," Jeff said.
While today's diesel buses may offer more relief from emissions than their predecessors, the statistics still pale in comparison to propane buses. The Propane Education & Research Council estimates that nitrogen oxide emissions could be reduced by 150,000 pounds annually by simply replacing all of Missouri's model year 2007-2014 diesel buses with 2019 propane models. Districts like Fort Zumwalt see propane as an opportunity to make a positive contribution not just to their local environment, but to play their part in relieving larger climate issues.
Financial benefits of propane autogas
For Fort Zumwalt, and thousands of other school districts considering making the switch to autogas, financial flexibility ranks near the top of the reasons to push forward with propane. Propane autogas has been proven to lower a fleet's total cost-of-ownership by saving more money in fuel, fluids, and filters over time, and Jeff can attest to that.
"Propane buses only use seven quarts of oil, as opposed to a diesel bus which uses significantly more," Jeff said. This means the ongoing cost of upkeep and maintenance will be reduced over time. He also adds that, "The cost of propane is significantly less [than diesel], and right now we're experiencing a benefit from the government too. We get a rebate of 50 cents per gallon on propane."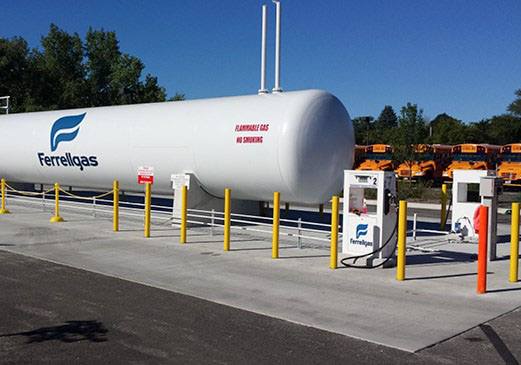 It's not often that switching to an alternative fuel source can both save and make you money, but that's exactly the win-win proposition that propane offers.
Is propane autogas worth it?
What should you know before choosing autogas?
Transitioning to a propane-powered fleet is not an overnight occurrence. Plenty of research was done by the Fort Zumwalt School District to determine whether propane was a valuable investment. Jeff notes that about seven years ago, the district took on eight autogas school buses as a test fleet to see if the hype was worth it, and the results were nothing short of spectacular. Because of Fort Zumwalt's unique location at the time, they were not in a position to convert to other alternative fuel sources like natural gas or pump gas. In addition to the expensive initial costs of those alternative sources, the school district also pushed for propane because of the excellent service they received from Ferrellgas. 
"We like to find a vendor that we can rely on and we use them year over year, and Ferrellgas has proven to be that," Jeff said.

If you're looking to begin your initial inquiry into autogas, don't hesitate to contact your local Ferrellgas office, or visit us online.
Contact your local Ferrellgas office to convert to propane autogas
More than anything, propane autogas provides students, parents and school districts the peace of mind that their school buses will function properly, keep their kids warm during the winter months, and be the most cost effective and environmentally friendly fuel source out there. While many companies can offer propane, we at Ferrellgas provide exceptional, hometown service to all of our customers. From routine checks to our innovative propane tank monitoring technology, we take pride in being the propane experts here to serve your needs. For more information on how to switch your fleet to propane autogas, visit the autogas section of our website here.