TANKSgiving Traditions from the Ferrellgas Family and the Blue Rhino Herd
Thanksgiving is almost here! This year and every year, we are thankful for our employee-owners and all they do to Fuel Life Simply. In honor of the holiday, we've asked just a few of them to share their Thanksgiving traditions, memories, and recipes that help make the day extra special. Keep reading to learn more about how the Ferrellgas family and Blue Rhino Herd celebrates Thanksgiving. Who knows, you might even want to try one of their traditions at your next celebration! 
Bourbon Mashed Sweet Potatoes, by Rachel S.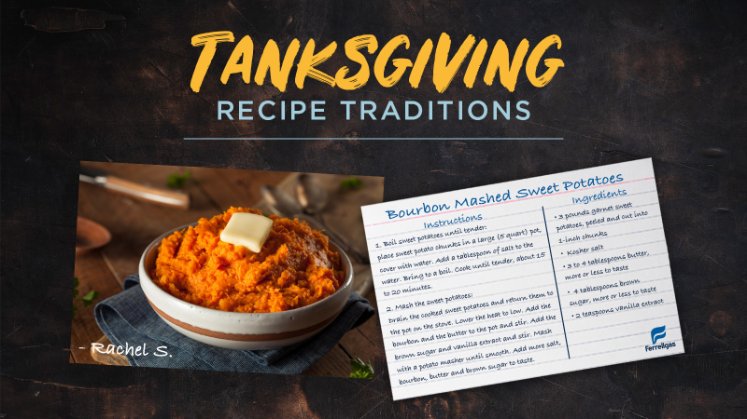 Rachel, Senior Customer Service Professional, holds this recipe close to her heart: "Every Thanksgiving Day, we get together with my dad's side of the family to celebrate the holiday. Since I can remember, Bourbon Mashed Sweet Potatoes were always a part of that day. My mom would always make them, and they were a big hit. Recently that responsibility got passed down to me."  
These Bourbon Mashed Sweet Potatoes are a new twist on an old favorite, and they sure sound delicious. Made with brown sugar and bourbon whiskey, they will add a sweet and subtle kick to any Thanksgiving dinner!  
Going to See the Plaza Lights in Kansas City, by Jeromey B.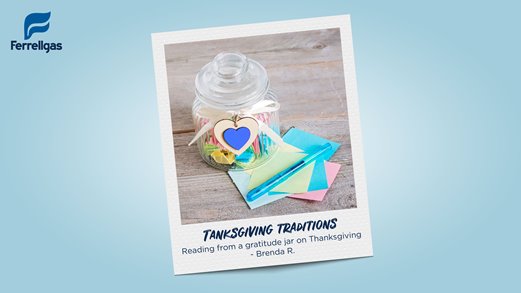 Thanksgiving traditions go far beyond food! Some families take special trips together, too. This is the case for Learning and Development Partner Jeromey: "My favorite Thanksgiving holiday tradition is gathering with friends and family to enjoy the Plaza Lights here in Kansas City!"  
There is nothing quite like a scenic holiday light display! Something about seeing thousands of tiny, twinkling lights outlining city buildings is truly magical.  
Bread Stuffing, by Brandi T.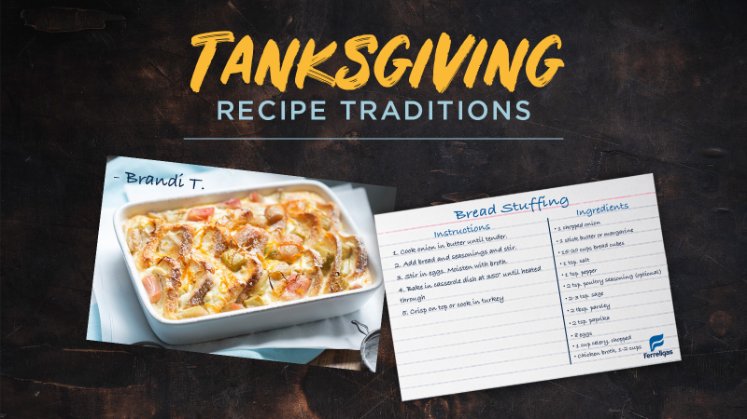 A lot of planning goes into celebrating Thanksgiving Day. Brandi, Director of Fixed Pricing Operations, and her family take planning to the next level: "We have a Family Cookbook spreadsheet for our family's Thanksgiving. A family favorite is our Bread Stuffing!"  
Brandi, this is a great way to stay organized! Everyone can keep track of who's bringing what to dinner, and it also allows the host to see what's lacking from the spread. What a great tip!    
Making a Cheeseboard with Family, by Lauren K.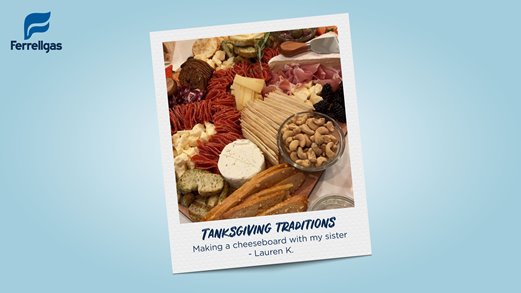 In some families, Thanksgiving food traditions extend beyond the usual turkey and mashed potatoes. Social Media Analyst Lauren likes to take things a step further: "A new tradition for my family is making a cheeseboard for Thanksgiving! My sister and I have a lot of fun gathering new cheeses and snacks to add to the board for everyone to try out!"  
Who doesn't enjoy food that looks as great as it tastes? Try creating a cheeseboard the night before so your guests have something to snack on while the main meal is cooking.  
Reading from the Thankful Jar, by Brenda R.  
Customer Service Professional Brenda's Thanksgiving tradition starts well before Thanksgiving Day. Her family makes a special effort to be thankful every day of the year: "We all have a jar at our homes and as nice things happen in our daily lives, we jot a note about it. On Thanksgiving we share those joys with each other. It has made our Thanksgiving Day a day of truly giving thanks."  
This tradition is a great reminder to not let any good deed or act of kindness go unnoticed. Being thankful is a mindset that extends far beyond one single day. 
We can never express enough just how thankful we are for all our employee-owners, and especially for our customers! We hope these traditions brought some new ideas to the table for you and your family as you celebrate this special day. Happy Thanksgiving!