Unique twists to a cookout classic
When you think of the many staples of a barbecue, it doesn't take long before you mention the classic cheeseburger. A piece of fresh beef topped with an assortment of cheese, lettuce, tomatoes, pickles, and onions, then sandwiched between two buns ranks high on the list of greatest cookout meals. Over the years though, grilling enthusiasts and experts have found a method to making the traditional burger in a way that fits the style of their region, and their taste buds. Here are some of the best, and most unique cheeseburger recipes to try at your next cookout.
Satisfying southwest cheeseburgers
Tex-Mex serves as the inspiration for this Southwest Cheeseburger recipe. If you've ever been to parts of the southwest United States, you'll know that they pride themselves on their fresh ingredients and variety of spices used in their cooking, and that's no different with this recipe. Make it even more authentic by topping your burger off with a shredded Mexican cheese blend and adding chopped tomatoes as a finishing touch.
The ultimate breakfast burger
Who says you can't have a burger for breakfast? Breaking all the rules never tasted so good with the Ultimate Breakfast Burger! A hit among the brunch crowd, this burger has all the fixings of a hearty meal to start your day. Cook up a few eggs sunny-side up, but don't flip them. This will allow for the delicious egg yolk to flow down the burger once you bite into it. Finally, it's not breakfast without adding some sliced avocado, and homemade spicy tomato salsa to round out the taste. Breakfast burgers might become a common occurrence once you've had your first taste. Enjoy!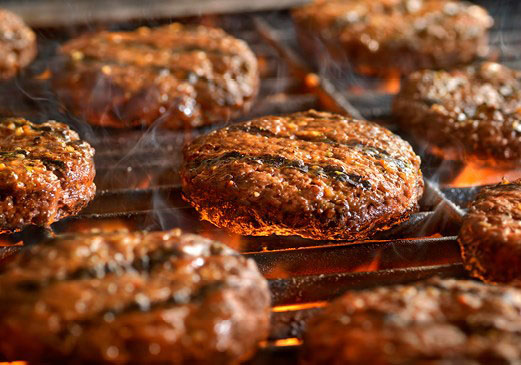 The best Greek burger
We're going international with this Greek Burger recipe! Unlike our traditional burgers, this recipe calls for ground lamb rather than beef. But what brings in the full-Greek feel to this burger is the Tzatziki and Feta cheese. Once you've cooked the burger to your desired taste, add a generous amount of crumbled Feta while still on the grill. Top it off with thinly sliced red onion and Tzatziki, and for the Greek effect, serve it on pita bread. This recipe is sure to make you say Opa!
Mmm maple bacon beer burger
A four word combination never sounded as good as this! The Maple Bacon Beer Burger combines some of the best parts of a barbecue into one delicious meal. Start by combining ground beef, beer, and Worcestershire sauce in a medium bowl, mixing lightly but thoroughly. Building a great burger often lies in the toppings, and the key flavor for this burger comes from the bacon. Get your hands on a pack of extra thick slices of Maplewood-smoked bacon, cutting them in half and cooking them to be crisp. Top off the burger with Cheddar cheese and those incredible strips of bacon. Don't worry, there's no such thing as too much bacon! Once you're ready to enjoy, grab your favorite adult beverage and chow down!
The other burger
The Other Burger might be the most versatile burger recipe and one to keep in your pocket for a rainy day. Depending on what your palate likes most, you can make this burger fit those requirements. The one constant here is the meat. Start with a pound of ground pork, and then let the fun begin! Choose from several herbs and spices to produce a well-known flavor of regions across the world. You can add ingredients like soy sauce and ginger to give it a distinctly Far East taste, or add items like ground cumin and crushed red chilies for a South of the Border feel. Whichever way you decide to dress it up, the Other Burger won't be like those other burgers!
Those were some of the most unique spins on the classic cheeseburger recipe. Visit Blue Rhino's recipes page for even more ideas on how to add a little flair to your next cookout!