Veterans Day 2019: How Ferrellgas veterans fuel our freedom
Each year, we take time to recognize the strength and sacrifices of veterans across our country on Veterans Day. For Ferrellgas, the eleventh day of the eleventh month means a little bit more as we employ hundreds of veterans around the nation. From coast to coast, and from all branches of the military, we're proud to work with those who have given so much to protect our freedoms. Here are a few of our veterans who shared some of the lessons they learned when serving our country. 
Eladio M. – Virginia Beach, Virginia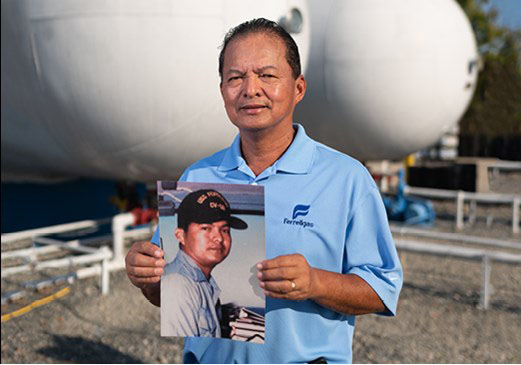 Eladio, a Ferrellgas veteran of nearly seven years, spent three times that amount serving our country as part of the U.S. Navy. During his 21 years of service, he was stationed aboard ships such as the USS James Forrestal in Mayport, Florida, as well as the USS Harry S. Truman, USS George Washington, and USS Carl Vinson – all in Norfolk, Virginia. As he is quick to mention, Eladio is proud to have been a member of the Navy because he was able to serve the country that he loves, and provide a better quality of life to his family along the way. Now as a Ferrellgas driver, Eladio is using the skills and lessons he learned at a young age to serve our Ferrellgas customers. He often recalls a quote his father passed onto him when Eladio was just a teenager. At that time, his father told him to "always do the right thing, even when no one is watching," and that's stuck with him now in his daily work. Thank you, Eladio, for being an outstanding driver and an even better citizen!
Megan S. – Elk Grove, California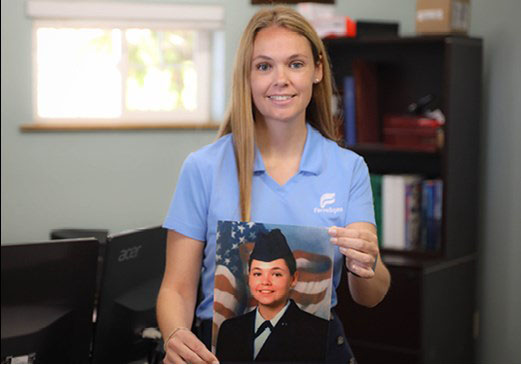 With 18 years of service under her belt, Major Megan S. is no stranger to leadership roles. Serving as our General Manager in Elk Grove, California, Megan is also a Personnel Officer acting as the Force Support Squadron Commander in the Nevada Air National Guard, where she provides support to the overall mission and conducts key personnel briefs, out-and-abouts, and climate surveys. After initially enlisting to help with her education costs, Megan quickly realized her calling was to serve our country after boot camp and technical training. Over time, she worked her way up the ranks to her current role, doing so while also growing the Ferrellgas business. Megan joined Ferrellgas in May of 2006, and credits our company's value of hiring veterans as part of her success. As she mentions, it's important to hire veterans because they have a special knack about them. "They know what it means to help a brother or sister out, regardless of the situation. Based on the military values, veterans bring those values with them to Ferrellgas and utilize them day in and day out." Megan continues to serve our country, doing so with a great respect and admiration for the veterans that came before her. Thank you, Megan, for all your current and future contributions to our great nation!
Troy T. – Sioux Falls, South Dakota

After joining the Air Force immediately after graduating high school, Troy could not have imagined the journey he was about to embark on. Now as our District Manager in Sioux Falls, South Dakota, he looks back on his nearly 26 years of service in the Air Force with plenty of memories and lessons that apply to his current duties. Troy served as a Fuels Specialist in the Air Force, where he was responsible for accounting for any and all fuel-related tasks. Whether that was storing, sampling, transferring, or issuing fuels to vehicles, Troy did it all. It was a role that saw him stationed in six places across the country, and deployed to nine locations abroad, including countries like Italy, Saudi Arabia, Kuwait, and Iraq. In May of this year, Troy began his Ferrellgas career, and the leadership skills he gained from his time in the military have already played a significant role in his position. As he explains, veterans are needed because they're willing to go the extra mile. "A veteran will do what it takes to succeed even if that means falling down a few times to get to that point," Troy said. We're glad to have you as part of our team Troy, and we couldn't be more thankful for your service!
John R. – Conley, Georgia
For John, the choice to serve started as an opportunity for a small town farm boy living outside of Missoula, Montana, to see the world. Coming from a military family, John realized the importance of what it meant to enlist and serve our country at a young age. As he recalls, his father served in the Army and his uncle, who was only 16 at the time he enlisted, lied about his age so that he could join the Navy. Even further back than them, however, was John's great uncle who paved the way for his family by serving in World War II. Because of John's ties, the choice to serve was never in question, but the difficulty lied in whose footsteps to follow and what branch he wanted to join. After much deliberation, John enlisted in the U.S. Marine Corps and served from 1995 to 1999, where he spent most of his time at Camp Lejeune in North Carolina, along with a few trips to Norway for cold weather training. John likes to joke that the propane business suits him well because cold weather often puts a big smile on his face. We're certainly glad to have him at Ferrellgas, and he's glad to be here. As John says, "I find a camaraderie with my peers similar to that of the military, and I guess that's why I've enjoyed working here for a combined total of about 16 years." Your service to our country and to Ferrellgas is no small feat, John. We thank you for all that you've done to keep us safe here at home and abroad!
Ferrellgas is proud to employ veterans across the country
Veterans often possess qualities that every team needs, and as our Ferrellgas veterans prove, they're incredibly diligent, poised, and take pride in doing the best job that they can. We're proud to employ so many brave and courageous veterans across the country. If you are looking for an opportunity to join the Ferrellgas family, visit our Jobs page or call your local office to see if you'd be a right fit.