For more than 100 years, propane has stood out as an efficient, clean-burning fuel that is kinder to the environment than its counterparts, which release higher levels of carbon and other pollutants into the atmosphere.
Nevertheless, propane producers, refiners, and retailers continuously invest in innovative research to develop the fuels of tomorrow – and offer even more benefits to consumers and the world we live in. One such promising advancement is BioLPG – a revolutionary gas with properties identical to propane, but created from the processing of agriculture and municipal waste products. 
So, exactly what is BioLPG? At its core, BioLPG is liquid propane gas – the same fuel you've relied on for years to power your appliances, grills, heating systems, and even refrigerators. Chemically, there is no difference between traditional propane, or LPG, and BioLPG. The fuels can be blended together or used interchangeably without the need for any modification from the end-user. The difference is in the processing that creates BioLPG.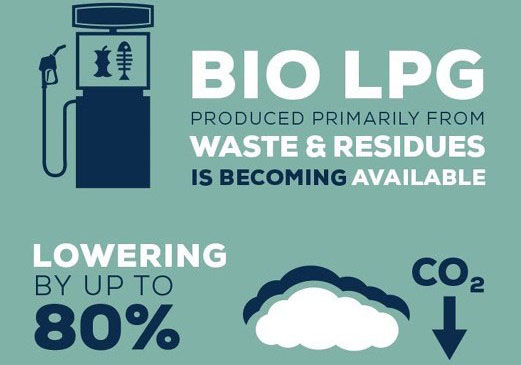 How is BioLPG made? 
Where traditional propane is among the various gases produced underground, BioLPG is made from sustainable resources, such as crop residue, vegetable oils, and municipal waste. 
The most common production process is hydrotreating. Also called hydrogenation, it is the primary process used today to create BioLPG – though many other promising technologies could be on the horizon. Hydrotreating is a chemical reaction that can be created between oils and hydrogen to recover existing and potential gases, such as methane, ethane, butane, and propane.
Gaseous conversion and synthesis is a process similar to fermentation that has shown promise in research labs and is poised to move to the demonstration and proof-of-concept phase.  
How renewable is BioLPG?
The promise of BioLPG is that it's 100 percent renewable. Instead of extracting limited resources from the earth, BioLPG converts renewable cellulosic and waste material that can be created season after season into a highly-efficient and environmentally friendly fuel. By using already existing materials to produce BioLPG, the overall reduction of carbon emissions could reach 90 percent compared to the production of traditional propane.
In addition to producing a clean-burning fuel, BioLPG helps create efficiencies in other industries, such as agriculture, by converting the carbon used in crop production into a viable source of energy.
Where can you find BioLPG?
Thus far, the primary production centers for BioLPG are in Europe, and manufacturing levels account for only 1 percent of the global propane market. Currently, BioLPG is most commonly co-produced at processing sites, and blended into the traditional propane distribution network.
Over time, there's encouraging reason to believe production will continue to increase, with more BioLPG being used to supplement propane use in the coming years. In fact, the industry has set an ambitious goal of a 100 percent transition to BioLPG by 2040.  
How much will BioLPG cost?
As technology continues to advance and production of BioLPG increases, some countries are looking with interest at incorporating this sustainable fuel into the government's energy mix as a way to significantly reduce their overall carbon footprint.
Though difficult to isolate BioLPG cost or to find the solution to the question of if BioLPG is more expensive than traditional propane, it's ability to blend into existing supply networks indicates BioLPG will be a growing part of propane's future.
Anyone concerned about the future of energy and the health of the environment should be encouraged by the growing interest and attention being paid to BioLPG.
While traditional propane is nearly 30% "cleaner" than other petroleum-based fuels, the prospect of nearly eliminating net carbon production in energy usage provides a hopeful look at how we can sustainably meet the energy demands of tomorrow, and evaluate our responsibility to protect the environment for the next generations.