What's the difference between propane, butane, and methane?
Propane, butane, and methane are three of the most common hydrocarbon gases that power our everyday lives. Similar in nature but comprised by a differing number of hydrogen and/or carbon atoms (hence the name hydrocarbon), each offers a unique solution to both common and not-so-common energy needs.
As a propane company that's one of the largest in the world and has been in business for more than 80 years, let's just say Ferrellgas knows a thing or two about propane. Easily transportable, making it available for use in areas without natural gas service, and more environmentally friendly and cost-effective than electricity, propane helps power America's (and the world's) homes, farms, businesses, and public and private fleets. 
What are the key properties of propane? 
Propane is the lightest of all hydrocarbon gas mixtures, boasting three carbon atoms and eight hydrogen atoms. It is commonly illustrated using the chemical equation C3H8.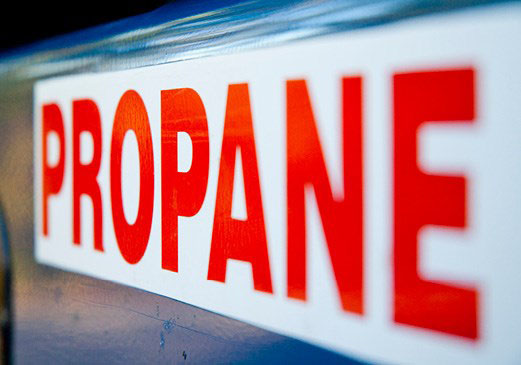 Some may know that Ferrellgas' humble roots began in the late 1930s in the small Missouri River town of Atchison, Kansas. We were founded and known for many years as A.C. Ferrell Butane Gas Company. It's been many, many years since we sold the stuff, but we're more than comfortable telling you a thing or two about butane as well.
What elements make up butane? 
Butane is the second-lightest hydrocarbon, tipping the scales above only propane and containing four carbon atoms and 10 hydrogen atoms. You'll find it commonly listed as C4H10. 
It's typically blended into gasoline or (in small cases) propane, but often sold as a finished product. Think butane lighters and torches.
What is methane?
Which brings us to methane. Methane is a simple hydrocarbon, containing only one carbon atom and four hydrogen atoms (CH4) and is the main component of natural gas. It's a greenhouse gas that's found in small quantities in Earth's atmosphere. It's generally consumed as a fuel in the refinery process, but it's also used to heat homes, power ovens and water heaters, and more.
Ferrellgas often receives questions about various hydrocarbon mixtures, including which uses may be interchangeable. Take propane and butane, for example. Propane and butane are safe, non-toxic, environmentally friendly fuels that provide a great source of energy. With lower carbon contents than oil, gasoline, diesel, kerosene, and ethanol, both also release significantly fewer greenhouse gas emissions. 
What are the differentiating factors between propane, butane, and methane?
The biggest difference between propane and butane is their boiling point, or the temperature at which each gas vaporizes. Propane's boiling point is a low -43.6 F, which allows for vaporization as soon as propane is released from its pressurized containers. By comparison, butane boils at 30.2 F, or just below freezing.
There have been a number of instances in our nation's history where temperatures have dipped below -43.6 F, most notably the record -69.7 F record accomplished in Rogers Pass, Montana, in 1954. Still, it's a safe bet that propane will be available in the coldest of conditions. 
But certainly in theory, you could find yourself with no gas for heat or cooking in some parts of the country if butane were the primary fuel source.  
Get in touch with Ferrellgas for your propane needs 
As the experts in this field for more than 80 years, we know a thing or two about propane, butane, and methane. Our calling card, however, has been providing excellent propane service to homes, businesses, and farms across the country whenever they need it the most.
Let Ferrellgas fuel your next project, cookout, or anything else that matters to you. Contact us today and let us provide the hassle-free service our customers have become accustomed to.