Five grill-friendly Thanksgiving recipes made with your leftovers
Thanksgiving meals somehow always result in plenty of leftovers. If you're one of the lucky few who are in charge of cleanup, chances are you've wrapped up the excess food in foil or thrown it in a plastic container, putting it out of sight and out of mind… at least, until you get hungry again! One of the best parts of any Thanksgiving meal is just how long you can stretch it. But simply reheating the same turkey and mashed potatoes can become exhausting. Fortunately, there's an easy remedy to the post-Thanksgiving blues, and it comes in the form of your grill!
Leftovers don't have to be bland. In fact, finding new and interesting combinations for those classic dishes will make everyone rush to the dinner table for many nights to come. Here are some of our favorite ways to create fresh and delicious grilled meals out of your Thanksgiving leftovers!
1. Grilled Turkey Panini (Courtesy of Food Network)
Spice up your plain old turkey sandwich by turning it into a Grilled Turkey Panini! Some of you might be wondering, is there really that big of a difference between a sandwich and a Panini? Ask the Italians that same question and you're liable to get a full college course on just how much the two vary. In this case, there are a few defining factors that make a Panini the perfect leftover meal. Start with the best Italian bread you can find at your local grocery store, then begin assembling all the pieces by the grill as you wait for it to preheat. This recipe calls for a healthy layer of mustard on both slices of bread, followed by a combination of any leftovers you have. On one slice, arrange the turkey and the cranberry sauce. On the other slice, lay on the dressing and spoon the gravy over the top. Add a slice of your favorite cheese, unite the two slices of bread and place it on your grill. To get the true Panini effect, be sure to press down on the bread with a spatula or tongs. In a matter of minutes, you'll have a created a tasty new dish, all from food you already made!
2. Thanksgiving Leftovers Casserole (Courtesy of AllRecipes.com)
If there's one food that lends itself to mixing several ingredients together, it's a casserole! We're even bold enough to say that this recipe rivals your favorite breakfast casserole too. The key to creating any comfort food is lots of layers, and thanks to all the leftovers in your fridge, you're already off to a flying start. Begin by spraying a 9x13 grill-friendly metal pan with non-stick cooking spray, then spread new or leftover stuffing inside the bottom of the pan. Once that's complete, it's time to go overboard with the rest of your leftovers. Mix together a layer of turkey, vegetables, and mayo, and spoon it over the stuffing. Next, create your third and final layer of mashed potatoes and cheese. Finish it off with a sprinkle of paprika, toss it on your grill over medium-high heat and let it bake until it's heated all the way through. Serve it for breakfast, lunch, dinner, or just about any time you're craving a pick-me-up!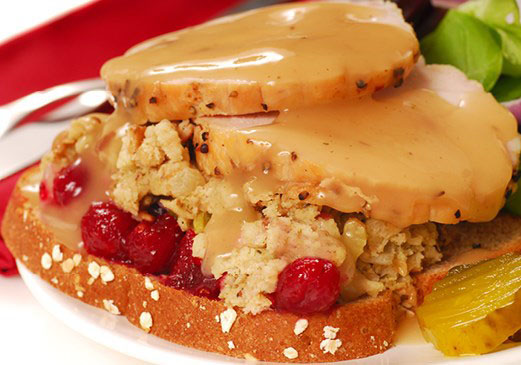 3. Fried Mashed Potato Balls (Courtesy of Delish)
Turkey often steals the show when it comes to leftovers, but you can't forget what everyone's favorite side dish might be: mashed potatoes. Just hearing the name of this recipe will have you saying yum! Rather than buying a bulky and expensive deep fryer to create this dish, let your grill do the work for you. All you need is a pot with high sides to contain spatters and retain heat. A cast iron Dutch oven will work wonders here. Begin by combining mashed potatoes with cooked bacon, cheddar, chives, and garlic powder, and season with salt and pepper, stirring until all ingredients are incorporated. Next, place eggs and panko in separate shallow bowls. Use a small cookie scoop to create one to two-inch balls of mashed potato mixture. Roll into a ball in your hands, then dredge first in egg and then in panko – making sure to repeat the steps until you run out of mashed potato mix. Finally, pour canola oil into your Dutch oven about three inches high. Turn your grill to its highest heat, placing your mashed potato balls in batches when the oil reaches 375 degrees Fahrenheit. It should only take two to three minutes for the potato balls to become golden brown. That's when you can pull them out and place them on paper towels to drain any excess oil as they cool off. Now that's leftovers done right!
4. Cranberry Turkey Crescent Ring (Courtesy of Pillsbury)
What's easier than wrapping up all your Thanksgiving leftovers into one giant crescent ring? This delightfully simple recipe from Pillsbury makes great use of the tasty dough they're so well known for, and allows you to capitalize on all the goodies sitting in your fridge. As is the case with many of our leftover recipes, start by mixing all your foods together. Turkey, spinach, cheese, and a half cup of cranberry sauce can be spread across your crescent ring, which should be separated into eight overlapping rectangles. Using the perforations in the dough, take each piece and fold it over the top of your filling, making sure to tuck the dough under the bottom layer to secure it in place. Once the hard part is over, take it to your grill. We recommend a medium heat, allowing it to bake on the grill for 20-25 minutes. When it's ready, take the crescent ring, separate it into equal parts, and serve with any leftover cranberry sauce. See! We told you there was nothing to it!
5. Cranberry-Apple Hand Pies (Courtesy of Country Living)
You didn't think we could forget dessert, did you? While the chances of there being any leftover pie are slim to none, you might have many of the ingredients on hand to create this fresh spin on a sweet classic. Hand pies are more like Pop-Tarts® than conventional pies, making them portable and the perfect snack after any meal. Start with your leftover pie crusts, rolling them into 13x21 rectangles on a lightly-floured work surface. Then make your filling by whisking together jam and vanilla in a bowl. Add apple, cranberries, and sugar, tossing it all together to combine the ingredients. Take your filling and top it on your rectangular dough, making sure to brush the borders with beaten egg. Finally, place your remaining rectangular dough pieces on top of your apple mixture, pressing the edges down with a fork and brushing the tops with egg. Sprinkle it with a little sugar, take it to your grill, and let it sit over a medium heat until they achieve a nice golden brown color. And there you have it! A dessert fit for the road or at home.
Keep Ferrellgas in mind for your heating needs this winter
Celebrating Thanksgiving means winter is just around the corner – if it's not here already! With colder temperatures here to stay for a few months, make sure you've got the propane you need to keep your home nice and cozy. Reach out to your local Ferrellgas office today to get started!