Five things every propane user should know
Propane has been a fuel source for Americans for more than a century now. Its portability and flexibility make it a fixture of homes across the country. It fuels indoor comfort and outdoor fun without ever taking a single day off.
1. Your propane tank should never be "full"
A propane tank is considered full when it is filled to the 80% mark. Propane is stored in tanks under pressure in a liquid state, and that pressure can build when it's hot outside. The additional space within the tank allows for propane to safely expand into a vapor during the warmest times of year.
2. Be prepared for propane prices to fluctuate
You've likely seen how prices can fluctuate from day-to-day at your favorite gas station. Similar to traditional gasoline, wholesale propane prices are traded on the commodities market and can fluctuate daily. That means there can be better times to buy propane than others. For example, prices are typically lower in the warmer months and higher in the winter months based on demand. At Ferrellgas, you can easily get an online quote today.
3. Better service at no additional cost
The last thing anyone wants to do on a frigid winter day is walk out to the propane tank to check the gas level. If you're thinking "there's surely a better way," then you are absolutely right! When customers sign up for Ferrellgas' free Auto Fill Service, those long, cold walks to the tank are things of the past. That's because Ferrellgas monitors the amount of propane in your tank and automatically schedules your next delivery. If you want to Fuel Life Simply, then sign up for Auto Fill today!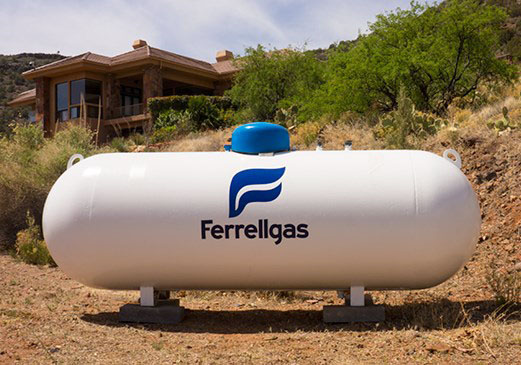 4. Tank monitors are here to make your life easier
One common complaint among propane users is having to check the tank percentage. Ferrellgas offers a remote propane tank monitoring service that allows customers to check the amount of propane from their cellphone. It's 21st Century technology for always-on-the-go homeowners, and it's available to Ferrellgas customers today.
5. You can easily make the switch to Ferrellgas
Unlike other utility companies, you have a choice when it comes to propane companies, and Ferrellgas makes it easy to change providers. Your frustrations may have led you to think about it a time or two through the years, but this is the year to make the switch. Give Ferrellgas a call or initiate a chat with us on our website and we'll walk you through the simple steps to switch from your current propane provider. Benefits of being a Ferrellgas customer include access to our nationwide propane supply network, our convenient variety of payment and delivery options, and our free and industry-leading MyFerrellgas online account management. There are many reasons to finally make the switch!
Call us today!
With so many facts about propane (and about Ferrellgas!), it's easy not to know everything. Lucky for you, when you make the switch to Ferrellgas you'll have the support of the nation's leading propane company. Give your local Ferrellgas location a call, or hit the button below to chat with a Customer Service Specialist!