A spring cleaning checklist for your propane system
Warmer days and the brighter colors of springtime are on the horizon, which means it's almost time to put the gloomy days of winter in the rear-view mirror.
Plenty of memories will be made outside in the coming months, but before we get there, we want to encourage you to add your propane tank, and other propane-powered items, to your spring cleaning checklist!
Why? Because we understand the importance of safety for your family and home. To us, taking these safety measures is just as imperative as checking your heating system and furnace around this time of year.
You can find our propane safety tips here, but we'll list some of the bigger ones below. While you're at it, you can also check out our grilling safety tips to prepare for the countless grill outs in the near future!
TOP 5 TIPS WHEN SPRING CLEANING YOUR PROPANE SYSTEM
Remove any combustible materials, such as dry grass, wood, or debris, within 10 feet of your propane tank or cylinder(s). Because propane is flammable, you do not want to risk and flare ups in your backyard or other areas surrounding your home. Removing debris also ensures our Drivers can make a safe delivery without having to worry about any obstacles in their way.
Don't store propane cylinders or tanks inside buildings. Safety regulations indicate storing propane cylinders in a cool, outside setting to avoid possible explosions under excessive heat. It's important to note that propane ta
Make sure to call 811 before digging for major landscaping projects or planting new trees. This line will connect you with the Office of Pipeline Safety.
Download a copy of our Propane Safety brochure here, or call your local Ferrellgas office to request a hard copy. Inside you'll find useful tips and tricks, including a step-by-step explanation of how propane makes its way from your tank to your home.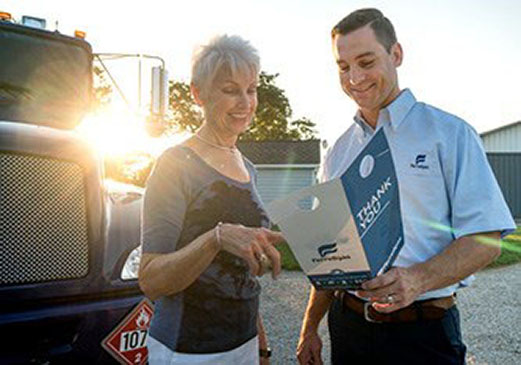 5. Consider an inspection from a service technician if you haven't used appliances since last fall. This includes you propane water heater, gas range, and more. Over time, sediment and debris can build up in and around propane appliances, forcing them to work harder and add a higher long-term cost for maintenance or replacement.
So, get ready for the joys of outdoor fun this spring and summer seasons, while having the peace of mind that safety is at the top of your spring-cleaning checklist.