Achieve grill master status with these summer safety tips
Grilling season is in full swing! And with Father's Day just around the corner, you've got a great excuse to fire up the grill and show off your chops.
Whether you're actually cooking pork chops or another pitmaster special, here are a few grilling tips to keep you and your family safe this summer. Follow these dos and don'ts to avoid any backyard faux pas and to make sure the only thing people leave talking about is your culinary skill.
Do keep your grill at least 10 feet away from your house. This includes garages, porches, and carports.
Do clean your grill regularly. Grease and fat buildup is a major source of flare-ups, which can cause larger fires.
Do check for gas leaks. You can do so by following these easy instructions from Blue Rhino.
Do follow the grill manufacturer's lighting instructions. And with all grill models, keep the lid open and don't lean over the grill when lighting it.
Do plan ahead. Keep a spray bottle of water handy in case of a minor flare-up. In the event of a larger fire, it's also important to have a fire extinguisher close by.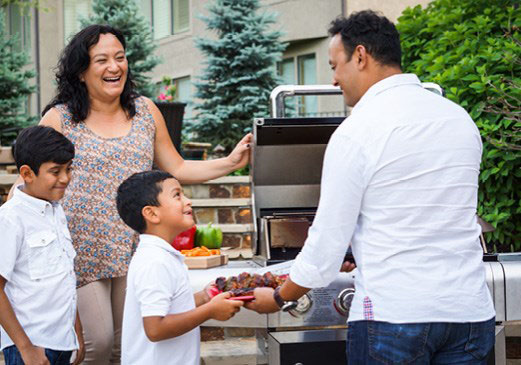 Don't leave your grill unattended. Be sure that children and pets stay a safe distance from the grill – not only while it's lit, but also for an hour after you use it as the grill will still be hot.
Don't wear loose clothing while grilling. Baggy or loose-fitting clothing can catch fire, so be sure your shirt, sleeves, and apron strings don't dangle over the grill.
Don't re-light the grill right away. If the flame goes out while using your gas grill, turn the grill and the gas off, then wait at least five minutes before re-lighting it.
Don't overload your grill with food. This is especially important if you're cooking fattier meats. If too much fat drips on the flames at once, it can cause a large flare-up – turning your meal into toast.
Don't ever use a grill indoors. In addition to being a fire hazard, grills release carbon monoxide, which can be extremely dangerous for you, your family, and your pets.
For additional information, visit our Grilling Safety Tips page.