Are propane patio heaters safe?
Thanks to a variety of safety features, there is no need to ask "are propane patio heaters safe?" Today's LPG patio heaters include automatic fuel shut-off mechanisms if the heater is tipped over or disrupted. Additionally, the use of a thermocouple ensures the propane is turned off if the heater's flame is suddenly blown out by a strong gust of wind.  
Safety features to look for before buying a propane heater
When shopping for your outdoor patio heater there are a few features you'll want to insist are included to best meet your outdoor living needs in a safe and effective way.  
No "naked" flames 
Look for units that don't have "naked" flames.  While open flames are decorative and often used on restaurant patios or other outdoor venues, a patio heater that contains the flames is the safest option to heat your outdoor living area.
Look for a thermocouple 
Make sure your heater includes a thermocouple to detect the presence of a flame. If the heater's flame is extinguished, it's critical that the flow of propane is immediately stopped. A thermocouple constantly "watches" for a flame and triggers an immediate shut off of propane if no flame is present. This safety device is critical for any outdoor patio heater and will ensure there is no chance for an external fire.  
Does it have an anti-tilt device? 
Anti-tilt devices, such as a weighted base, help ensure your heater remains upright at all times. Strong winds can topple heaters without such features, and lead to an increased risk of fire or other injury. A quality patio heater requires a device that automatically shuts off the propane tank in the event of tippage.
Check for a CSA safety rating
This is a designation that stands for Compliance, Safety, and Accountability. A CSA rating on your patio heater is a seal of approval, and gives you the peace of mind in knowing the unit has been inspected by a third-party and has met a set of rigorous safety guidelines to verify its safety for use in North America. 
Propane heater placement is key
Once you've decided on the heater that's right for you, it's important to consider location and placement in your area.  
Place your heater on a stable surface that is level and not at risk of catching fire.  
It's best to not place the heater directly on grass. 
It should always be placed at least three feet away from any fire hazard or other combustible materials.  
Propane heater safety by outdoor space
There are propane patio heaters safe for decks, terraces, gardens, porches and nearly any outdoor area you want to enjoy. 
When looking for a propane heater, it's a good idea to consider your needs and how you'll use the heater during the cooler months. Some heaters are more portable, making them ideal for smaller spaces or in varied locations. Others will take a more permanent place on your deck or patio. You will want to make sure you have the right heater for your space, and your intended use.  
Decks & Patios
The most common patio heaters can raise the ambient air temperature by 25 degrees within 25 feet of the heater - making this a great choice for most decks and patios. Larger patio spaces often rely on overhead, permanent units that produce more heat over a bigger area.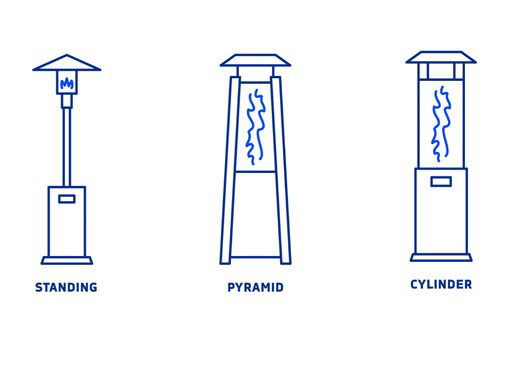 Whether you're trying to create a comfortable outdoor dining area or looking to craft a cozy space for a few friends, there's a propane patio heater to meet your needs. And because propane is an efficient and clean burning fuel, you'll get hours of comfort from your outdoor heater - delivered instantly the moment you need it, unlike electric patio heaters that require time to warm up.  
Gazebos, pergolas, awnings, or in a screen porches
Traditional propane patio heaters are not suitable for use under a gazebo, pergola, awning, or in a screen porch area. It's possible for the heat to cause damage to such structures, and there's an increased risk of fire. To ensure the safest use possible, always make sure your heater is used in an open and well ventilated area.  
Contact Ferrellgas for questions on propane safety
If you have any questions about how a propane heater can extend the life of your outdoor living, reach out to your local Ferrellgas location. Our qualified technicians are always happy to help you get the information you need to keep living life outdoors.