Celebrate National Farmers Market Week by grilling these fresh green foods
There's more to grilling than burgers and brats, and there's certainly more to meats than buying them at your local grocery store.
If you're looking for quality green foods, support your nearby farmers market during this National Farmers Market week – and beyond. If you're not already supporting your local farmers markets, there are plenty of reasons why you should. There you can find the freshest and healthiest foods for you and your family, and chances are most of those foods can be prepared on your gas grill or your propane-powered kitchen stove. You'll notice the results are quite simple – delicious and healthy foods for individuals and families.
In a time when it's more important than ever to know where your food is coming from, farmers markets are valuable commodities to communities across the United States.
Due to the spread of the coronavirus and the current state of the COVID-19 pandemic, recently many people have worried about buying foods from grocery stores, not knowing who has handled food prior to the product hitting the shelves. But when purchasing foods from a local farmer, you know exactly who and where that food is coming from.
We'll get to the many other reasons and benefits of shopping at your area farmers market. But first …
What green foods can I grill?
Surprisingly, quite a lot. We'll provide a few of the most popular, but we want to shed light on why so many people love to grill their green foods. For one, the taste is just irresistible. The juices flow out of fruits and vegetables off the grill. Secondly, and usually, it takes no time at all.
Below you'll find some of our green food grilling favorites, with recipes attached courtesy of our friends at Blue Rhino:
This sweet-tasting fruit is the perfect complement to any delicious burger or steak! It's a simple recipe, too. Add a little lime juice, olive oil, oregano, and pepper, grill for 15-25 minutes and enjoy the perfect summer treat!
This seasoned vegetable is a household favorite. But are you aware of how delicious it is hot off the grill? Sure you have the same ingredients that everyone's accustomed to with your typical corn, but the delicious tastes of garlic and butter are even better with those classic grill marks.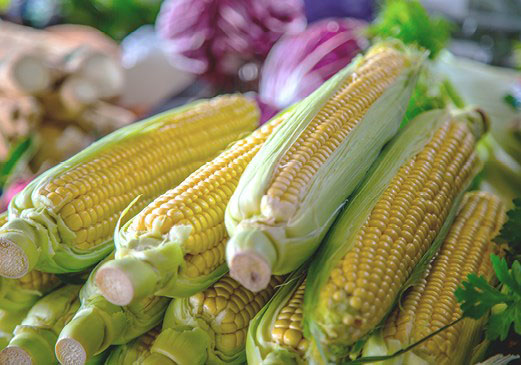 In taking less than a half-hour to make, this grilled tomato recipe is a breeze, and delicious. Sure, fresh tomatoes from the farmers market may do, but to give it an extra sweet taste, slice up those tomatoes, place them on a piece of foil or grill topper, throw a bit of fresh oregano and lemon pepper on the tomatoes, and toss them on the grill!
Benefits of shopping at your local farmers market
Knowing where your food is coming from is just one benefit to shopping at a farmers market.
When buying from farmers directly, you can ask them specific questions regarding how they harvested the food and what, if any, chemical preservatives were used. Don't forget you're also supporting your local community and making it stronger. This means more money in the pockets of your neighbors, driving an increase of the local economy and a stronger sense of a community family. There's never been a more important time to practice these types of habits.
Most food coming from the farmers market was harvested earlier that day, meaning you're getting the freshest food possible. Grocery store food has usually sat in transport for at least one day. For the same reason, your market food will be more ripe, nutritious, and flavorful than from the grocery store.
Be confident in knowing how your farmer treats their animals. Have you wondered how the animals are treated on the farm? At the market, you can ask your local farmer these types of questions to give you peace of mind.
Who doesn't want a healthier planet? Food that doesn't have to be transported nationwide has its obvious benefits to the planet and produce grown and sold locally require less packaging than food tat's traveling a longer distance.
Each day American farmers work morning, afternoon, and night, to provide delicious foods for all of us. They allow us the starting point to a great meal, and for that we are very thankful for all that farmers do! As a token of appreciation, we encourage all to support farmers by buying local at your nearby farmers market.
Need a propane supplier to fuel your home or agriculture needs?
If you or someone you know is in need of a propane supplier to fuel your grilling, indoor cooking, or agriculture fueling needs, call your local Ferrellgas office to learn how we can fuel what matters most to you! We take pride in servicing just about everything that runs on propane!