Ferrellgas family shows the value of goal-setting
In both our personal and professional lives, we often set goals and hold ourselves accountable in order to achieve them. Whether it's eating healthier or meeting deadlines, goal-setting establishes a method to accomplish both your short and long term visions.
Across Ferrellgas, employee owners are setting the bar high for themselves and going the extra mile to deliver on their goals. This has been evident by the satisfaction and appreciation our customers have expressed for helping fuel what matters to them.
The process of goal-setting, and the can-do mentality that comes with it, has become so contagious across our teams that we've seen it extend to the families of our employee owners. Recently, Indianapolis Account Manager Jason and his son Jay were featured in the local news for the old sales technique that Jason attributes to his success at Ferrellgas, and what brought success to Jay on the gridiron.
Jason, who serves as the main point of contact for sales across central and southern Illinois and Indiana, writes down all his "wish accounts," or the large accounts that he wants to convert into Ferrellgas customers, on a goal board he has in his office as motivation to land the sale.
"I'd stare at the board every day and after I'd land the sale, I'd erase that account from the board," Jason said. Six months after he started writing down his goals, he landed every single account on the board.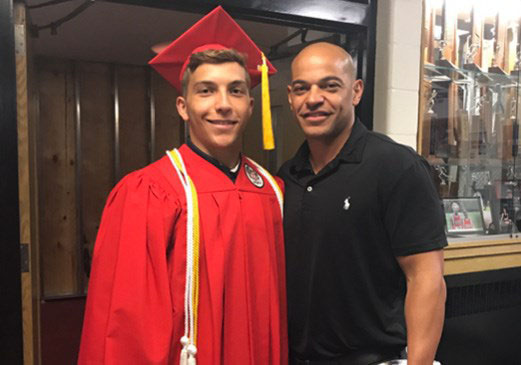 When Jay caught word of how successful his father was, he sought to follow in Jason's footsteps. Jay created a goal board of his own, with the left side showcasing what he wanted to accomplish during his senior season playing high school football, and then filled the right side with quotes from both his supporters and doubters.
This fueled Jay to work harder than he had ever done before. During his junior year, Jay spent time as a wide receiver on the junior varsity team, but by the end of his senior year, he finished as one of the state's top wide receivers and lowered his 40-yard dash time from 5.18 to 4.44 seconds.
As evidenced by Jason and Jay's story, setting personal and professional goals can remind you of where it is you'd like to be, and what you need to do to make it there. As a word of advice, Jason encourages everyone to not only set specific goals for themselves, but to think outside the box on how to achieve them.
Though the New Year won't be for another few months, it's never too early to put in the work to reach your goals, and this Ferrellgas family can certainly attest to that.