Ferrellgas heroes: past, present, and future
Our company's 82-year history is full of people who courageously served our country before joining Ferrellgas to serve customers with the same dedication. Almost 60 years ago, our Chairman and CEO Jim Ferrell returned from active duty as an Army officer to help grow his family's business. The work ethic and leadership skills he gained while serving are now evident in everything we do, including our investment in veterans.
At Ferrellgas, we believe every member of the U.S. Armed Forces deserves recognition for their sacrifice. That's why we proudly hire veterans and support them with comprehensive benefits, paid training, and career growth opportunities.
This year for Veterans Day, we asked just five of the hundreds of veterans in the Ferrellgas family to share their stories. The heartfelt courage and resilience they bring to our business inspire us to improve every day. Please join us in celebrating these amazing propane service members who help Ferrellgas fuel life simply!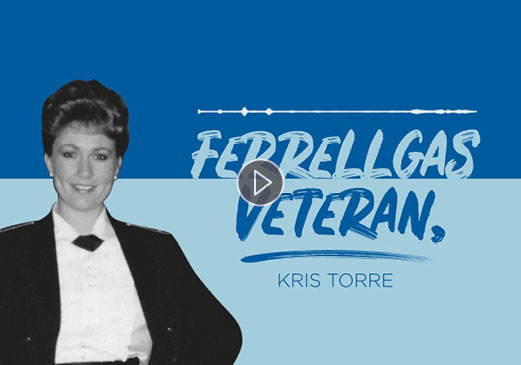 "Our country is great because of all the honorable work our military has done to keep us safe and strong."
Before joining Ferrellgas, Project Manager Kris Torre proudly served our country for five years in the United States Air Force. She was following in the footsteps of her father but quickly developed a passion for service. Listen to Kris' story on our YouTube channel.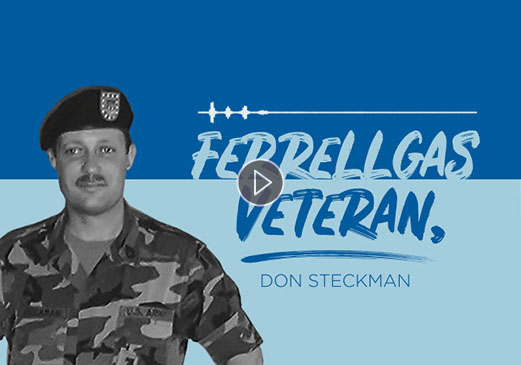 "I chose to serve because I wanted to give back to the country that I love."
A third-generation veteran, General Manager Don Steckman spent 20 proud years in the Air Force and Army National Guard before joining the Ferrellgas family. Now Don gives back to his customers by making their lives easier through simple propane service. Listen to Don's story on our YouTube channel.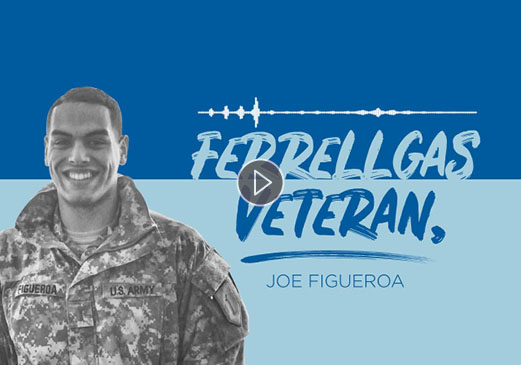 "Our values mirror that of the armed services: loyalty, duty, respect, selfless service, honor, integrity, and personal courage."
After serving three years with the U.S. Army, Joe Figueroa (Director of Business Operations) was looking for a new service-oriented career that shared the values he learned in the military. With deep roots in the Armed Forces and a love for providing great service, Ferrellgas was the perfect fit. Listen to Joe's story on our YouTube channel.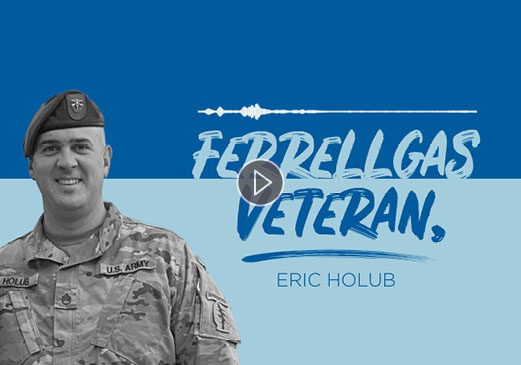 "I was proud to serve our country in the United States Army... and now, I'm proud to wear the blue flame of Ferrellgas."
Management Development Program Trainee Eric Holub says his favorite parts about working at Ferrellgas are serving customers, being part of a team, and the growth opportunities. We strive to provide veterans like Eric with the tools they need to be successful in a new career of service. Hear Eric's story on our YouTube channel.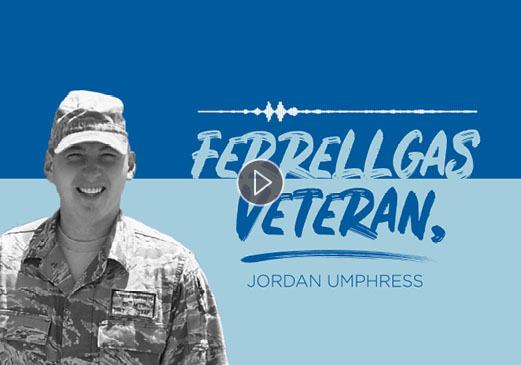 "This Veterans Day, I'd like to say thank you to not only those who continue to serve but also the families that support them."
Account Manager Jordan Umphress was one of nearly 200,000 Americans who enlisted in the military after the events of September 11, 2001. Since serving and protecting for eight years in the Air Force, Jordan now serves Ferrellgas customers with the same heart and dedication. Listen to the Jordan's story on our YouTube channel.
There are few who exemplify the heart of service more than veterans. Their selflessness and bravery are integral to our past, present, and future, and while we may never be able to fully repay their sacrifice, gratitude is a good place to start. From all of us at Ferrellgas, thank you.