Honoring The Father of Propane
On December 13 we celebrate the birthday of someone who the world would be a lot colder without – Walter Snelling, the "father" of propane.
The discovery of propane
In 1910, the United States was trading horses and buggies for Henry Ford's new Model T automobile. These "Tin Lizzies" were being produced at an astounding rate and had finally become affordable at $350, which was less than the average worker's $1,000 annual salary.
A Harvard-educated chemist, Dr. Walter Snelling was a noted explosives expert, having perfected an underwater detonator that was integral in building the Panama Canal. A then 31-year-old Dr. Snelling had been working in the U.S. Geological Survey office when an enraged automobile driver was directed to him.
Complaining that the natural gasoline was evaporating too quickly from the fuel tank vent on his new Model T, the driver believed that the escaping gases could explode, and he wanted the government to do something about it. Because of the way natural gas was compressed to make gasoline in those days, it was not only dangerous to produce, but also to transport, making this driver's concern an entirely valid one.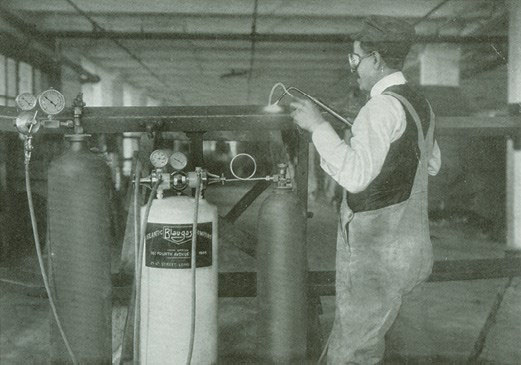 So Dr. Snelling hitched up his horse and buggy and traveled to the fueling station where the driver had purchased his natural gasoline. Filling a one-gallon glass jug with the fuel, he corked it and trotted home, but on his way, he had to keep putting the cork back in because vapor pressure kept popping it out.
Through this simple observation, Dr. Snelling was able to go back to his laboratory and perform several experiments that led to the realization that these vapors could be used as an energy source. He discovered that once controlled, propane could be easily and safely used in a variety of ways to bring warmth and wellbeing to not only our country, but to the world. 
Propane's global impact
Thanks to Dr. Snelling's discovery, propane is now used to heat homes, cook hot meals, warm water, dry clothes, fuel outdoor cookouts, and a myriad of other beneficial things. But it's impact stretches well beyond our own backyards.
Worldwide, propane is being used to offer safer, more sustainable ways for people to feed their families. In African countries, the World LP Gas Association (WLPGA) is introducing people to the power of propane in hopes that it will help improve their heath and save lives, all of which wouldn't be possible without the work of Dr. Snelling, an upset Model T driver, and a fuel that is safe, reliable, and good for the environment. (To read more about the good the WLPGA is doing in developing countries around the globe, you can read our Cooking for life blog post.)
Stateside, we say thank you to Dr. Snelling, both on his birthday and every day, for the propane that powers our Blue Rhino tanks to the Ferrellgas propane that heats our homes.
Information in this blog provided by Butane-Propane News.