Though the calendar has only recently turned to fall, winter is on the minds of businesses across the country. As we begin to approach the holidays, companies are starting to hire seasonal employees to help with the anticipated increase of customers during this time of year.
The same holds true at Ferrellgas. As temperatures continue to drop, our business heats up during our peak season. That means you can expect to see our employee owners out in full force over the coming months, as they make sure you have the propane you need to keep warm this winter.
Because most of our seasonal employees work in different fields during the spring, summer, and fall months, they are often searching for new opportunities during the winter. The flexibility of working at Ferrellgas in a seasonal role lets individuals who have their off-seasons during the colder months make the most of their free time. Professionals in the farming, construction, or landscaping businesses, for example, have enjoyed working in the propane industry from November through early March.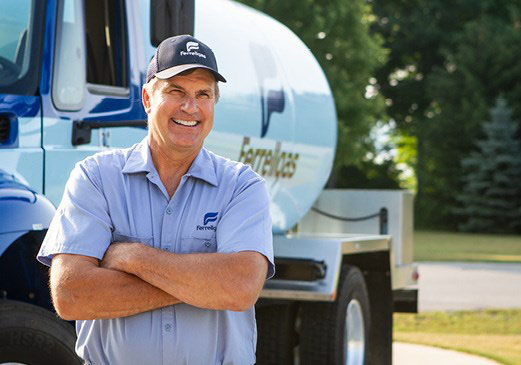 In the span between October 2017 and October 2018, Ferrellgas and our friends at Blue Rhino hired 140 seasonal employees, with 100 of those being drivers. In order to drive a Ferrellgas or Blue Rhino truck, you must have a valid Class B Commercial Driving License and meet the additional position requirements found on our jobs page. There is also a slight uptick in the number of Customer Service Specialists we hire during the winter, as they play an important role in supporting several parts of our business.
Along with the joy of serving our customers, seasonal employment at Ferrellgas also comes with its incentives. New seasonal hires are eligible for certain benefits like paid time off (PTO), Ferrellgas' Employee Stock Ownership Program, access to a 401(k) with company match, and the potential for commission based on position and performance. Seasonal drivers who return for a second season with Ferrellgas are also eligible to receive a bonus of up to $2,000 for their continued service.
If winter is just as busy for you as it is for Ferrellgas, you might also consider seasonal employment at Blue Rhino. The peak season for Blue Rhino happens during the summer months, where seasonal drivers are often needed to help deliver grill cylinder tanks to locations across the country, and provide customers with the fuel they need to power outdoor activities, including camping and grilling. To join the Herd, and to learn more about all of Blue Rhino's propane services, make sure to visit our Blue Rhino jobs page.
So do you think you have what it takes to become a name behind the flame? Join us this winter to help keep homes and businesses in your community warm all season long. Contact your local office if you can lend a helping hand and want to earn some extra cash, or visit us at Ferrellgas.com/jobs for a list of all available positions.