Propane tank exchange vs. refill — which is better for you?
The decision about propane tank exchange vs refill is less about what is the better option, and more a matter of convenience vs price. So, is it cheaper to exchange a propane tank or refill it? The short answer is refilling is cheaper. But there are advantages and drawbacks to both. 
Refilling a propane tank: Pros and cons
PROS:
It's cheaper. You can save up to $1.75 per gallon by refilling over the cost of an exchange at third-party retailers.
You'll only pay for the propane you use if you own your own propane tank. Any propane left in your tank isn't lost as it is during an exchange –and even if it's a small amount, it'll return home with you. If you plan to reuse your tank for an extended period of time, you'll want to find the tank's expiration date, generally stamped on the top handle area. 
CONS:
Convenience. Instead of finding a fresh tank of propane when you need it at your nearest hardware store, gas station, or grocery market, you'll have to take your tank to a retail location set up for refills, during normally scheduled business hours. 
What you save in price by refilling, however, comes with a cost –the biggest being convenience. However, there's likely a Ferrellgas office near your neighborhood, and our easy-to-use location finder makes it easy to find a store near you.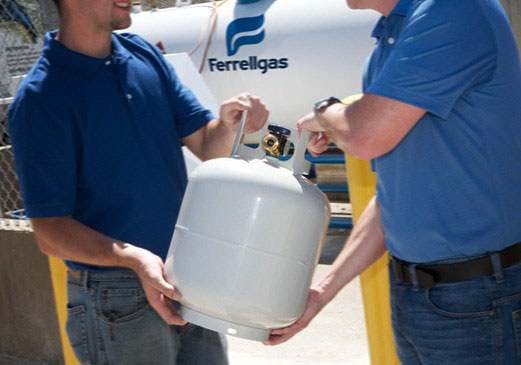 Exchanging a propane tank: Pros and cons
PROS:
Convenience. Exchanging your propane tank at a Blue Rhino partner is quick and easy and can be done any time of the day. You can hold an impromptu barbecue, and quickly find the propane you need just moments before the grilling begins. The process only requires you to drop off your old tank and pick up a new one. 
Exchanged propane tanks are regularly inspected, so you'll know that the tank you pick up has a lot of life left and has been checked for any issues. 
Blue Rhino accepts any brand of tank, so all you have to do is drop your empty tank beside the display, have a store employee swap your tank for a full one or two, and enjoy the rest of your day.
CONS:
Less cost-efficient. Exchanging a propane tank can be less cost-efficient in two ways: higher price per gallon ($5-6 vs. $3-4 per gallon) and the potential of not using all of the propane prior to the exchange.
Find a Ferrellgas or Blue Rhino location near you
Whether you choose to refill or exchange your propane tank, propane is the best way to keep your summer cooking. Propane is an affordable, easy to use, and efficient fuel that excels in backyard barbecues. Propane provides immediate heat and precise temperature control, which gives you the flexibility to prepare a variety of dishes that would be challenging with other outdoor heat sources.
Thanks to the large network of Ferrellgas and Blue Rhino locations, you'll never be far away from the fuel you need for your adventures.