The ultimate banana bread recipe for your stay at home
Over the course of the past couple months, our lives have changed significantly. Many of us have picked up new hobbies, binge-watched several TV shows, and managed to keep ourselves busy by following some of the latest social media trends and challenges. But through all the changes we've recently endured, there's been one giant silver lining; the further apart we've had to be, the more ways we've found to connect with one other.
In our experience, we know that nothing brings people together quite like food, and not too many foods can rival a fresh and tasty loaf of banana bread. What is seemingly the unofficial baked good of this global pandemic, banana bread has practically reached celebrity status, with numerous people showing off their culinary skills and appreciation for this delicious treat. Chances are that you or someone you know has probably made some banana bread with the abundance of downtime we've had in recent weeks. But if you're just now ready to jump on the banana bread boat, we've got you covered. Here's how you can one-up your friends and family with a yummy chocolate chip banana bread recipe.
Ingredients to make chocolate chip banana bread
Like many baked goods, a few key ingredients will go a long way. Here's what you'll need to start off:
2 overripe bananas
¾ cup granulated sugar
1 teaspoon ground cinnamon
½ teaspoon salt
½ cup vegetable oil
2 eggs
2 teaspoons vanilla extract
1 ¼ cups all-purpose flour
1 teaspoon baking soda
½ cup mini chocolate chips
Now that you're stocked up, it's time to get to the fun part!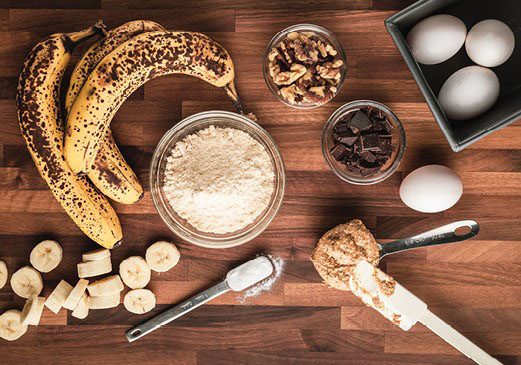 Banana bread baking instructions
Follow these easy steps to get the perfect banana bread.
Preheat your oven to 350°F.
Prep the baking pan by lightly greasing the inside and set aside.
In a large bowl, mash the two overripe bananas and combine bananas, granulated sugar, cinnamon, and salt.
Beat in the oil, eggs, and vanilla extract.
Add the flour, baking soda, and chocolate chips, and gently stir until it is incorporated.
Pour the batter into the baking pan.
Bake for 30 minutes, remove from the oven and cover loosely with foil, then continue to bake for 15 – 20 minutes, or until a toothpick inserted into the center of the loaf comes out clean.
Cool in pan for 10 minutes, then remove to cool completely.
Enjoy!
Share your banana bread success!
We said it before and we'll say it again – food brings us together. And in a time where we could all share a connection, chocolate chip banana bread is here to lead the way. We encourage you to share this recipe, or even (safely) send over a loaf to your friends and family, and let them know Ferrellgas has them covered too.
Contact your local Ferrellgas office for your propane needs
A banana bread recipe like this deserves a dependable oven and range. If you're considering making the switch to a propane-powered kitchen, or if you'd like to know how you can make the most out of your gas appliances, let the experts at Ferrellgas take care of you. Contact your local office today and let us know how we can serve your propane needs.