Everything you need to know about moving to a propane-powered home
There's no way around it. Moving is stressful. If you're moving your entire family or just yourself into a new home, it's an enormous task.
From large furniture to small knick-knacks to an abundance of clothes, there is a long list of things that need to be packed, moved out of your old place and into a new one. Not to mention the loads of paperwork that needs to be signed in order to officially claim ownership of your new home.
It can be a lot.
And if you're moving into a propane-powered home, let us help you take some stress away by answering some of your questions regarding what goes into just that. Maybe you know propane as a way to grill delicious food. While that is certainly true, propane has turned into quite the option for fueling residences.
If you're like most people, you may be unaware of the ins and outs of space heating. But, don't worry, we're in your corner and here to help you with the transition. We'll get you started on the benefits of heating your home with propane.
You're saving money, plus other benefits
For starters, fueling your home with propane has a few major benefits – it's more affordable, more efficient, and it provides a more even and quality heat. Operating with propane puts money back in your pocket, it's better for the environment, and it warms your home faster than electrical system can.
If you're fueling your home with propane, or have several propane appliances, you're saving money on your monthly bills, and you're also reducing greenhouse gas emissions. Approximately 7.8 million households use propane for these benefits alone. Appliances like propane water heaters, gas dryers, and propane ranges and cook tops all offer versatility, cost-savings, and efficiency that can't be matched through other alternatives, including electric. 
Propane is a clean, low-carbon fuel that produces much fewer greenhouse gas emissions than most other energy options. More specifically, with the use of propane, you reduce these gas emissions by as much as 68%.
While electric heaters are trained to heat below body temperature, propane heaters heat above body temperature to produce a warmer and more consistent heat.
There is more responsibility needed to ensure the safety of you and your family. Depending on which service you select, you may be responsible for scheduling propane deliveries when your tank is running low. And, of course, when dealing with gas, always make sure to be on alert while around your tank. If you smell propane at any time, it's important to take the appropriate action.
Own it or rent it?
Do you own the propane tank on your brand-new property? Or just rent it? You should know the answer to this question when signing the official paperwork during the buying process. Typically, the buyers assume ownership or renting of the tank and keep the propane system, as the propane tank is connected to the furnace which fuels the home.
If you own the tank, you don't have to make monthly payments as you would if you rented it, but you're on the hook for any maintenance or new parts.
As for the propane remaining in the tank from the previous owners, the propane will be measured during the transition of ownership and the remaining propane will be pro-rated.
Once you understand this process, you're well on your way to being a full-fledged propane tank expert!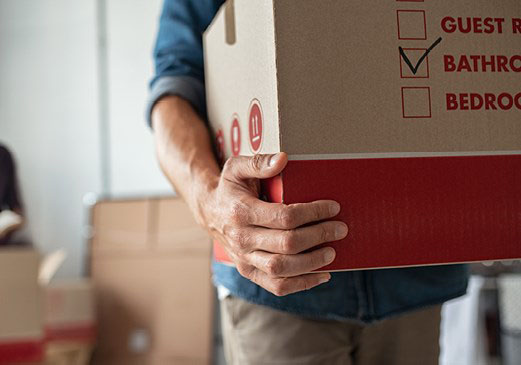 How to take care of your propane tank
If there's one thing we can't stress enough, it's to take good care of your propane tank. First, understand the various propane tank sizes and make sure the size you have makes sense for you and your propane usage. Before taking over the propane tank, it's fair to request the history of maintenance and tune-ups of the propane tank.
If you took over a well-kept propane tank, then continue that trend to get the most out of your tank. Assuming it's above ground, if you adopted an older looking tank, clean it up a bit. To do so, consider removing rust and possibly giving it a fresh paint job.
To remove rust, use a wire brush and scrub the affected areas. If you're painting the tank, you must adhere to specific paint-color guidelines and use a heat reflective color. A dark color absorbs heat and can expand the gas, which could be a safety hazard. So, think lighter colors – silver, white, light gray, or Ferrellgas' classic baby blue color.
Additionally, you'll want to know where your gas lines are underground. This would be a good question to ask before purchasing the home. You may thank yourself in the future if you decide to renovate your home.
Take propane indoors, too
Before spending your first night inside your new home, you should know what other appliances operate with propane. Outside of a heating system, propane can also fuel stovetops, grills, fireplaces, generators and washer/dryer units.
If you have electric stovetops and you want to switch to save money down the road, now might be the time to make that happen. Gas lines will need to be added so the propane can run from the tank outside to the appliance in the kitchen inside. If you have any questions about how we can service your appliances, visit our Indoor Propane Uses page!
Propane home safety
You'll want to get a safety inspection to confirm your tank is in good shape and is ready for frequent fills. Let's be real here, with anything when it comes to buying a home, no one wants to deal with the previous owners' shortcomings. More importantly, it's crucial you understand what steps you can take to keep your home safe when you're using propane. Whether it's about calling before you dig, or learning how to keep a tank safe in severe weather, Ferrellgas is here to help. You can download a copy of our Propane Safety brochure, which covers everything you need to keep you safe and secure, whether it's during an emergency or otherwise. You can also visit our list of propane safety tips to keep you covered no matter the occasion!
Why you should choose Ferrellgas
Of course, you don't have to use the same company that the previous owner used. We're happy to service new homeowners who are passionate about the opportunities that come with living in a propane-powered home. If you want to learn more about pricing in your area, contact your local propane experts!