Propane Tank Sizes For Your Home
Understanding what propane tank size you need can be a challenge. Luckily, our nationwide team of experts can help you make the decisions to get the most out of your propane. 
There are plenty of options to choose from. Learn more to see what size suits your needs. 
What is a Propane Tank? 
Propane tanks come in various sizes and types, each is intended to fulfill specific purposes, all are designed to store and transport the gas safely.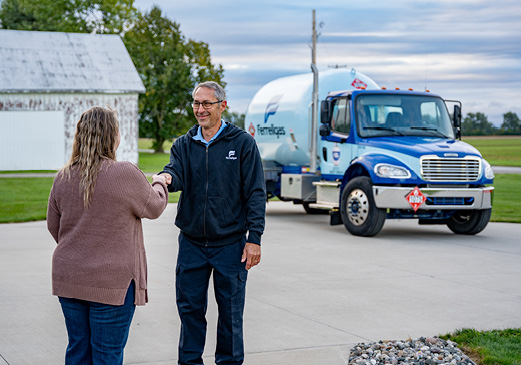 Propane Tanks Sizes & Their Uses 
Choosing the right propane tank size is crucial to ensure you have an adequate supply of propane for your needs. Let's explore some of the common propane tank sizes and their uses: 
20 lb Propane Tank Size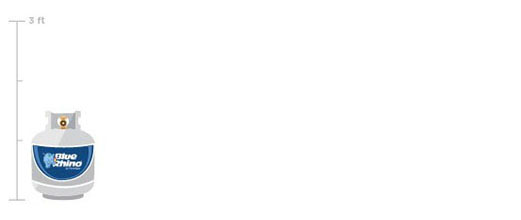 Uses: 20 lb propane tanks are commonly used for grills, camping stoves, fire pits, fire tables, turkey fryers, and other small outdoor appliances. No installation required. These portable tanks can be purchased at retail stores and from propane dealers as needed.  
Dimensions: 18" tall and 12" in diameter. 
Capacity: Holds up to 5 gallons of propane. 

120-gallon propane tank size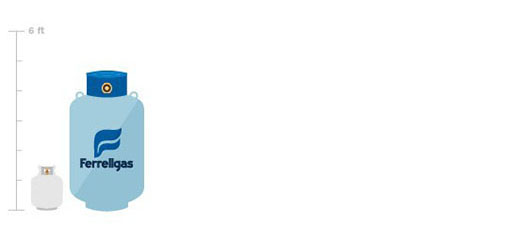 Uses: A standard 120-gallon propane tank is primarily designed for hot water heaters, fireplaces, home appliances, or space heating for homes. Other uses can also include powering a range or clothes dryer. 
Dimensions: 54.5" height and 30" in diameter 
Capacity: Holds 96 gallons of propane. 

250 Gallon Propane Tank Size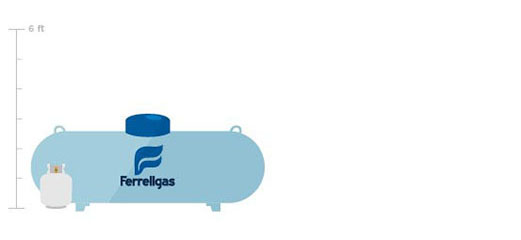 Uses: 250-gallon tanks can support appliances such as a clothes dryer, fireplace, and stove and are sufficient for a heating system for modest-sized homes. 
Dimensions: 7'10" long and 30" in diameter 
Capacity: Holds up to 200 gallons of propane. 

325 Gallon Propane Tank Size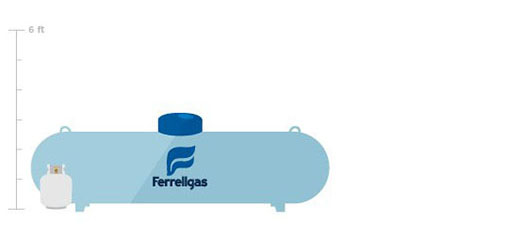 Uses: 325-gallon propane tanks are the perfect fuel source for backup generators or some smaller homes that use less than 500 gallons of propane per year. 
Dimensions: 10' long and 30" in diameter 
Capacity: Holds up to 260 gallons of propane. 

500 Gallon Propane Tank Size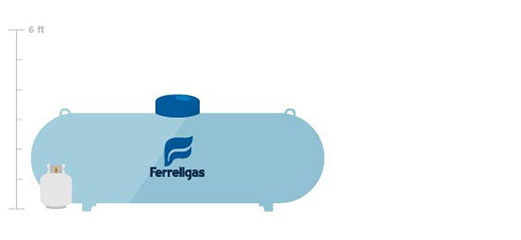 Uses: 500-gallon tanks are commonly used to power central heating and small commercial projects. 
Dimensions: 9'11" long and 37.5" in diameter 
Capacity: Holds up to 400 gallons of propane. 

1000 Gallon Propane Tank Size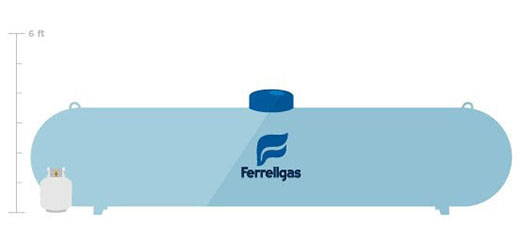 Uses: 1000-gallon tanks are typically reserved for large industrial and commercial projects, as well as for home heating. 
Dimensions: 16'1.5" long and 41" in diameter 
Capacity: Holds up to 800 gallons of propane. 

Where to install your propane tank? 
There are many benefits to leasing an above ground tank from Ferrellgas:  

Above Ground Propane Tank Benefits: 
Built to endure harsh weather and elements 
Easy to refill, maintain, and service 
Doesn't require digging into your yard 

Underground Propane Tank Benefits:  
Doesn't take up valuable space in your yard 
Quick installation process, done by a Ferrellgas expert 
You will own your propane tank 
There are plenty of benefits to both, but ultimately, your final choice depends on the vision for your property.  

Other Propane Tank Sizes
In addition to the above sizes, there are other propane tank options to consider:   
RV Propane Tank 

Uses: RV propane tanks are used to keep your fridge and hot water running and to power your furnace and stove burners on your vehicle. 
Dimensions: Dimensions vary depending on capacity. 
Capacity: Typically holds 20 lb, 30 lb, or 40 lbs.  

Forklift Propane Tanks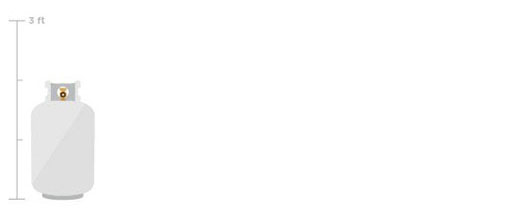 Uses: Propane forklifts tanks are designed to provide the fuel necessary to power the machinery used by commercial businesses. 
Dimensions: Dimensions vary depending on capacity.  
Capacity: Available in 33-pound and 43-pound sizes. 

Propane Tank Maintenance 
Propane tank maintenance is crucial to ensure safe and efficient operation. Regular inspections, leak checks, and proper storage can extend the lifespan of your tank and keep your propane system running smoothly.  
Here are a few ways to keep up with maintenance between routine visits from your Ferrellgas specialist: 
Can I see my propane tank levels? 
You sure can. We've put together four methods that will help you check your propane tank level. These methods are for tanks without a gauge, such as a 20-pound tank. On most of the tanks described in this article, you can check the gauge on your tank and in many cases take a look at your account on MyFerrellgas.com.
Why isn't my propane tank full after a refill?  
You've just had your tank filled and you see it's at 80% capacity – why is that? There's a perfectly simple reason: safety. Learn why propane tanks should never be 100% full.
Let the experts help you 
While there are some important matters to consider and choose from, you can always rest easy knowing that the propane professionals at Ferrellgas have worked with customers for more than 80 years now to determine the best tank size solution. Give your local Ferrellgas office a call today to start the conversation, or speak with a Customer Service Specialist for more information.